The Best Electric Pickup Trucks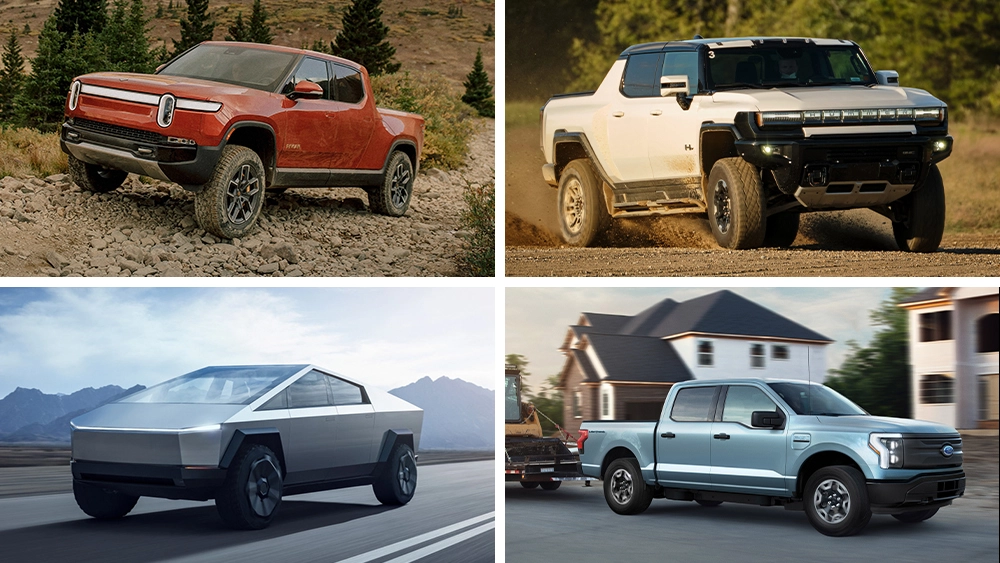 Electric pickup trucks were once thought unimaginable. Today they're becoming a reality, offering drivers time-saving benefits at the pumps while offering instant torque and various utility features.
Rivian's 2023 R1T leads the pack when it comes to off-road capabilities, surpassing F-150 Lightning, Tesla Cybertruck and Chevrolet Silverado EV in this respect.
1. Ford F-150 Lightning
The Ford F-150 Lightning delivers on its promise as an electric pickup truck designed to satisfy those who enjoy driving trucks. It offers all of the capabilities found in its gasoline counterpart while being quieter, smoother, and far more energy-efficient than competing models.
The 2023 Lightning features either a 98.0 or 131.0-kWh battery pack, providing up to 320 miles of driving range and 580 horsepower and 775 pound-feet of torque – more than enough power and torque than rival vehicles!
Inside, the Lightning offers a spacious cabin equipped with Ford's Sync 4 infotainment system available on Lariat and Platinum models. The larger 15.5-inch display offers Apple CarPlay and Android Auto access along with over-the-air updates to keep everything current. There's plenty of storage space in its frunk for tools or gear as well.
2. Rivian R1T
Rivian R1T pickup trucks are some of the hottest on the market, featuring fast and quiet performance with comfortable rides that handle efficiently. Additionally, its unique capabilities make it suitable for overlanding or camping adventures.
Rivian's clean-sheet design gives them the freedom to craft an unmistakably unique vehicle on the road. Equipped with a powerful drivetrain capable of towing massive loads, and boasting an ample cargo bed which can even fit a kayak or tent, Rivian trucks stand out as truly innovative vehicles on our roads today.
3. Tesla Cybertruck
The Tesla Cybertruck is an eye-catching electric truck with an eye-catching armored design and many useful features, making it an outstanding pickup.
Elon Musk had been toying with this idea, which was eventually revealed in 2023. It features a futuristic Blade Runner-esque design made out of "weird arctic steel," reinforced to provide 30 times stronger strength than normal cold-rolled stainless steel.
Inside, this RV will have seating for six and a 17-inch touchscreen display. Furthermore, 100 cubic feet of lockable exterior storage and 3,500 pounds of payload capacity make this model highly desirable.
4. Chevy Silverado EV
GM's Chevy Silverado EV electric truck represents their entry in the electric truck battles and features some innovative solutions as well as being appealing.
The Multi-Flex Midgate can expand up to nine feet, enabling its owner to transport items that may not fit inside a traditional pickup's cargo box.
The Silverado EV comes in WT and RST trim levels with up to 400 miles of range in each trim level, featuring 664 horsepower and an estimated maximum towing capacity of 10,000 pounds. DC fast charging of up to 350kW is also offered as part of this offering.
5. Ram 1500 REV
Ram introduced their REV in an eye-catching Super Bowl ad and promised it would send shockwaves through the truck industry. While its production version doesn't look quite as futuristic as its concept counterpart, it still boasts a massive battery and class-beating range; with an optional 229 kWh pack – larger than that found in any passenger vehicle and larger even than Hummer EV SUT's – offering class-beating range recharging at 350kW giving more range than most EVs or trucks in just 10 minutes than most.
The REV also boasts a customizable head-up display, which drivers can configure to their needs such as showing information such as their charging schedule or one-pedal driving. Furthermore, this system can detect obstacles on the road ahead and alert drivers of potential collisions.
6. GMC Hummer EV Pickup
The 2023 GMC Hummer EV Pickup is what happens when engineers unleash their full imaginations to craft an electric truck with unrivaled power, impressive off-road capabilities and innovative features – not to mention an impressive battery pack with an estimated driving range of 329 miles.
Unlike many electric vehicles that prioritize efficiency, the Hummer EV Pickup stands out as a high-powered road beast that features WTF mode and CrabWalk technology. This pickup can quickly reach 60mph by pressing its accelerator pedal firmly.
7. Canoo Pickup Truck
Canoo may not be your go-to name when thinking of futuristic pickup trucks, but its electric vehicle startup has plenty of potential to compete against more established brands. Already developing retail van and delivery vehicle prototypes with impressive features that may win over consumers.
Starter Features for Electric Vehicle Beds on Canoo Vehicles include space dividers and wall chocks to allow for modular setups, along with a work station featuring lights and power outlets where drivers can set up equipment before heading out on a job site or camping trip.
About Author